The Staff!

Mei
can be seen to be happy at one minute and angry the next if you say a wrong comment. Sometimes unpredictable as she is, she can be quite predictable. She loooves Yaoi so much and is usually seen doing stuff to males with her sister, Nobara. But this yaoi fan-girl means well, and wants everyone to get along on her site and wants it to be one of the best. Be careful around her and Nobara, they're usually the one to leave you shocked- or scarred. but they mean well... Maybe. And, usually you can see them bickering over pandas, cause Mei looves them while Nobara despises them.
~~
Nobara
, random, often hyper, friendly to most and as unpredictable and lethal as one of the volcanos on her freezing lil island. She's a yaoi fangirl which strives to make everybody around her become victim to her man on man hobby. Be careful never to turn your back on her, or you will find a sharpened toothpick between your shoulder blades. Her cheerfulness and hyperness often spike when around her beloved sister, Mei the head admin, and they do enjoy wrecking havoc. Mention dolphins or pandas around Nobara, and you will get killed. No questions asked. Nobara enjoys torturing
lifeanddeath
whenever she can.
~~
I don't know what to say in this tiny little box. What do you want from me people!? WORDS?!
With a yawn and probable shrug of indifference we arrive at the final Admin.
lifeanddeath
, an insomniac that constantly has to fend off random attacks from his two fellow admins who are certain he should star in their latest yaoi fanfic. Also known as LAD, Life, Lifey, Bitch, and Man Servant depending on who you ask. His often relaxed and often silent manner, might just leave you wondering if he fell asleep mid conversation, at least until he randomly joins the conversation, but it is likely he may disappear quickly afterwards. You could wonder what he might be doing in that silence, perhaps working on one of his ridiculously long apps, modding, or in the rare case sleeping. Whatever he is doing, you should be careful not to mention
knifes
....any sharp objects.

The long haired fraccion stood in front of Nobara's palace for a few minutes observing the view from around him.It seemed it was late now and every hollow was either hiding or hunting for another,as it was known Hueco Mundo wasn't a place that safe to rest in.Shizumaru looked over towards the fraccion quadrates and smiled "
As if i'll rest"
he said in a sarcastic way to himself.Although Nobara had given him a whole week to find them a medium sized house to live in adding to that it wasn't quite the tough mission,he didn't want to go rest.He knew that he wouldn't actually become at peace until his mission was over.That was the kind of hollow Shizumaru developed to be,the responsible type.He shacked his head slightly now as he started to walk slowly in the desert sand
."Now to analyize what is required"
..he whispered to himself as he placed his right hand on his shin."
I guess i'll have to start first by landing somewhere away yet near to Sector 5,wouldn't want to get caught by an patrols from the shinigami from starters"
.by finishing the sentence he snapped his fingers and all of a sudden a garganta opened.But before he was just about to step in,He found a huge looking hollow flying towards him and landed just near Shizumaru,No kind of alert or danger appeared on Shizumaru's face as he remembered now that Nobara had asked the department of science to get them two gigais,so that must be a messenger from the department with the gigai of Shizumaru.He looked towards the huge creature as it had a identical gigai of himself on its back with a note on it from the Department of sciense.Shizumaru didn't bother to read the note as it always held words of honor and gratitude to be serving a high level as him.He just grabbed the gigai from the back of the hollow and he looked one last time towards the White Kingdom of the hollows thinking how long it would take him until he would be back to the place he now called home.
Just as he stepped into the garganta,he noticed a spark of light from the other end.It wasn't long as he found himself in an open garden in the Human world at a very late time as the weather was very cold and he could actually hear the sound of grass from the silence.Shizumaru took a deep breath while he started to hide away his spiritual pressure as not to be located by any kind of Shinigami.He also wore his gigai now and while wearing it he felt how hard and tight it was to get into these kind of things.Not to mention they weren't that flexible and needed much time to get used to them.Everything was now set he started to walk in the streets for about 2 hours as he finally reached Sector 5,or to be now more specific a town named by Kinogaya.
"i guess this is the place"
Shizumaru said to himself as he walked into the town.The sun was now starting to shine.Since Shizumaru had set foot into the town and his face expressions had changed completely he was now giving a simple look with friendly eyes to anyone who was looking towards him.
Shizumaru had now stopped and bought one of the daily newspapers which the Humans read and as always each time since he was even a human himself.The newspaper contained nothing more than people killing each other for money.It was a rotten world they truly live in.But that wasn't the case now,he found that an old man wanted to sell his house which was in Kinogaya and the description of the house looked promising and good.Add to that,the man explained that the house is located above a small hill in a peaceful spot.That was exactly what Shizumaru was looking for,he wrote down the address on a piece of paper and turned around to spot the closest bank he could find.There was one just across the street he entered inside talked with one of the employees
"Good Morning,I would like to with draw a sum of money,please"..
Shizumaru said in a polite way to the man."Of course,sir.Could you give me the information of the account?".Shizumaru now took out the piece of paper Nobara had given him and gave it to the man.The employee entered the information on their system and it wasn't long until he withdrawed the money in the account and gave it to Shizumaru.
The next step was to visit that old man and buy the house,It took Shizumaru about 45 minutes to reach the man's house of course he would have reached there in a flash but flying was forbidden now and he wasn't used to walking for long distances.He stood in front of the door and rang the bell as an old looking man opened to him."Yes,my son..Can i help you?".Shizumaru gave out a fake smile to the man
"Yes,sir i would like to buy the house".
The old man looked very surprised now as he told Shizumaru to come in and closed the door behind them.The old man escourted Shizumaru to the living room as he told him to take a seat."Forgive me son for the sudden surprise,But i never thought i would get rid of this house?"..Shizumaru gave a worried kind of look to the man to seem normal."
How come,sir?"..
Shizumaru said as he sat down on an old looking couch."Well you see my son,there has been a lot of deaths here in the area since it's a little off track from the rest of the town."..Shizumaru understood at once
."Hollow attacks
...".Shizumaru said to himself as he kept his eyes concentrated with the old man
."Not much of a problem,This is actually a hollow sector.It's something normal"
..he continued to whisper to himself as he was now staring in his own thoughts and lost contact with the old man.Shizumaru then shacked his head and turned his blue eyes to look at the man once again
."Well Sir,I would still want to buy the house and here is the money for it."
Shizumaru gave the man a bag full of money."But son,This is dangerous are you sure?!"..Shizumaru smiled now a creepy smile as he looked towards the old man
."Believe me,I've seen way more dangerous.Just please have the house empty in the coming 5 hours".
Shizumaru now didn't wait for more chit-chat he stood up and walked out of the house as the old man rushed behind him."Thanks you my son and the house will be empty for you in time.".Shizumaru turned and smiled to the man one last time as he walked away heading to any place with no people.He kept walking until he reached a silent area with no one around."
i guess it's time to send a message for Nobara"..
Shizumaru said to himself as he got out of his cloak a crystal ball and crushed it between his finger.Just as he did so a garganta opened in the human world and a very pale arrancar with short hair came out of it rushing and bowed down to Shizumaru.That arrancar was one of Nobara's servants of the palace.Nobara had given him crystals that summon servants when Shizumaru needed to stay in cotanct with her."What can i do for you Shizumaru-Sama"..the arrnacar said while bowing down
."Rush back to Nobara-sama's palace and give this letter to her majesty ".
Shizumaru said as he gave a letter to the arrnacar that included that he had accomplished his mission and his current state in the human world.The arrancar took the letter and quickly ran into the garganta once again as it closed behind him.
By now there was only one thing left and that was to fill the house with furniture that suited someone as high as Nobara.Shizumaru still had alot of money with him,he made his way once again into the town and stopped by one of the luxorious furniture mansions and talked with the manger
."Yes as i said,i would like a full set of the most valuable furniture for a full house to be sent on the following address"..
Shizumaru explained to the man as he gave him the address.The manger looked puzzled but happy for the sudden income that he was going to gain."Right away sir,When would you want them to be sent."..Shizumar started thinking for a moment
."By tomorrow morning would be fine."
He said as he gave the man the required cash for the set.
Shizumaru now left the shop and indeed in just 1 day the whole furinture set was placed in the new house,The temporary new home after placing everything in it's right place gave the place a whole new look.The house wasn't anylonger the old dirty looking house the old man used to live in.But instead,it became a modern looking house like those the humans live in these days.The living room was simple and contained 3 large comfortable white sofaes in front of them a white looking table and there was a large LCD T.V screen
Spoiler:
Next is the kitchen.It is also a place to find all the normal everyday appliances the humans need in there everyday life,the fridge,oven,stove,microwave,toaster.The kitchen is also dicorated in a modern way to give it a simple yet valuable look.
Spoiler:
On the other hand the bathrooom could be found,Nothing much to be said about it.It also contains a shower,a bath tub.
Spoiler:
Moving on straight past the kitchen and bathroom on the left Shizumaru's room could be found.The room suits Shizumaru's character really well as the paint and way of simplicity reflects the calm character of it's owner.
Spoiler:
Last but not least.We come to the most important room of the entire house.The primera's room.An elegant design spacious room with a high-styled details and expensive furnitures. Night tables and dresser have double top and double base with eco-leather rounded side frames. The bed itself is a king size La Star 03 Modern Italian Bed. To the side of the bed is a tall mirror, and on the floor is a soft white rug which tickles at the toes.
Spoiler:
After Shizumaru made sure that everything was find.He left the house and started to wonder around the town without a certain destination to head off to.He wanted to check out the whole town and examine its locations
."Everything is set,I have to just wait Nobara-sama's arrival".
He was finally now relaxed to have finished his part even for now and there was nothing more to do now but wait.It was all a matter of time now before the ground beneath his feet shacked in fear from the hollow leader's arrival.

Shizumaru Hirameki




Posts

: 17


Join date

: 2010-12-12


Age

: 27



((I wrote this post in an hour xp seems I won for now.))

Nobara had received Shizumaru's message and was very pleased. As to be expected it hadn't taken him long to finish the mission, and Nobara was sure that her mood would not be darkened when she would enter the Human World. Her Fraccion was a man of tastes, so she trusted that he would get the right furnitures and be careful of staying close to Nobara's own personal taste when it came to her surroundings. Not full 5 minutes had passed since she had gotten the message before the Espada Leader had gone to the science department to retrieve her gigai. She did not look forward to wearing it. Not one bit. It always felt suffocating to her, restraining her powers and movement. Making her feel like a bird in a cage. But she supposed it was something that was needed in order to make things work out. Even if she did have the power to completely suppress her reiatsu, then that didn't mean she had the means to hide her hollow hole easily or the tattoo which represented her place amongst the ranks of the Hollows. Upon having arrived at the building, those who were in control of the experiments had gathered around their Leader while trying to fight amongst themselves about who would get to explain a few modifications to her which they had made to the gigai.

After having listened to rather annoying talking from many Arrancars at the same time, Nobara had slowly raised a single eyebrow and with her piercing glare shut them all up at ones. Pointing at the Arrancar she knew had the most experience, she had made him explain things to her. Even if Nobara hardly ever allowed for that to happen, as the Leader was supposed to be ahead of everyone and everything when it came to various information. And now, she was done opening up the garganta to the human world while holding the gigai against her. It was dressed in lighter clothes than those Nobara usually wore, as she had guessed the typical clothing she wore would perhaps prove too depressing or dark for the humans to observe. Closing her eyes for a second, she tucked back every single feeling there was to her reiatsu. It was as if she had simply vanished. No one could feel anything from her, not even those who would have stood next to her. Slowly her eyes opened again, and with a small exhale and the relaxing of her shoulders, she felt she was ready.

It took but a single step and then she was inside of the garganta. A door-like hole opened in the air at an abandoned playground which was at Sector 5. Nothing but a few stray cats was around, as Nobara had made sure no one would be able to see her arrival. The last thing she needed was to have a shocked human scream about a ghost or a monster appearing out of thin air. And it was also clear that she had no intentions of running into any Shinigami which might have been out on a patrol. Glancing to the sides before letting her eyes settle on a lone swing in front of her, Nobara turned slightly and with a flicker of her finger closed the garganta. Everything was so quiet. It was just like the calm before a storm. Nothing was heard except a nervous meowing from the cats which were the only witnesses to the Espada Leader which had made her way into their world. A soft screeching sound of a rusty chain in the swing made it's way to Nobara's ears as a soft breeze started moving it around.

Deciding it was not the time nor place to dwell too long, she lifted the gigai in front of her before pushing herself into it. Ugh.. just as I remembered. Uncomfortable. Her arms stretched above her head while she did some small movements while adjusting to the feeling. Pulling back the memories of what she had been told about the gigai, she knew that she still had about 40% of her original powers. Meaning she would be considered a monster strong human if she wouldn't be careful of her strength and movements. Most probably she would be able to break a wall with a single punch, or send any human flying with a flick of her finger. Closing her eyes, she gathered up her senses and started to walk out of the place in which she had appeared. From the letter Shizumaru had sent her, she knew where he was stationed with their house. And that was where she was going right now. After having confirmed that the place she would be living for probably the next few months was good enough, then she would go out and secure herself a job. Everything would have to go smoothly, and quickly. Nobara had no desire to stay in this world for any longer than she really had to. It brought too many memories which Nobara didn't feel she had anything to do with anymore. Her role as a human, as someone who had a warm heart and a smile for anyone, was long over.

Making her way towards the next sidewalk she spotted, the disguised Leader stepped out of the way from a few teenagers. At first she didn't realize what they were on about when whistling and hooting was heard, but turning her head she did confirm that they were indeed trying to catch her attention. Blinking slowly Nobara managed to stop herself just before she would have reached out to them and snapped their necks with a small movement of her hand. She was not here as the Hollow, she was here as a human. A small scowl entered her beautiful face as she turned and gave the young boys the cold shoulder. This was not something she found entertaining. Not the least bit. Stopping outside the window of a clothing store, the young looking girl stared at her reflection. It was weird seeing herself dressed in such a casual way. And even her face seemed a but unfamiliar to herself.

She was dressed in dark blue jeans which fit snugly against her long and well-shaped legs. On her feet she wore comfortable boots made out of black leather. Hugging the curve of her chest and her lean waist was a light purple, appliquéd lace T. Her hair remained set up in the usual way, and her face didn't have any difference to it. In her right ear there was a beautiful sapphire that sparkled in the sun. And of course that "earring" was her swords. There was no way she would ever part with it, even in her gigai. Now if there was a way for anyone to describe her, it would wary from very cute to a beautiful young woman. But her eyes might have made people jump a bit and feel uneasy. Although their crystal blue color was captivating, then there was nothing captivating about the ice cold emotion they carried. Like she wasn't really alive. And how true that was. It's probably just the clothing that's making me feel weird. It's too.... human. In fact, it was just as if she was looking at herself when she had still been alive. At that was something quite bothersome to be frank. Casting herself the last cold glance in the reflection, Nobara kept walking. It wasn't long now to where the house was.

Finally, standing in front of it, Nobara had to admit to herself that it didn't look too bad. Even if it looked mostly like a shabby dog house compared to her palace. But there wasn't really much she had expected from the humans to build in the first place. As long as she would get a dry and warm place to sleep in, along with being able to have some privacy then she could consider herself quite content. Arriving at the doors of the house, she laid her hand on the knob and twisted it slowly before pushing open the door. There was a mild scent she smelled, which she couldn't quite figure out. Was it the scent that followed a house that had just been bought? Was it perhaps the new furnitures? Whatever it was, Nobara couldn't help but find it a bit nice, and she inhaled slowly before stepping inside and closing the door quietly at her back. Stepping into the living room, she let her hand softly brush against the back of a comfortable looking white couch while letting her gaze stray over the room. He got a TV? Surprising, but when she thought about it then Nobara supposed all humans had one of those things. And if there would ever come to the unlikely thing that someone would visit this house, then it was best it would look as normal as possible.

The next room she walked into was the kitchen. It seemed very spacious, and the stove looked very inviting for anyone that would find it fun to cook. Tilting her head to the side, Nobara wondered when it had last occured that she had cooked. It wasn't something that was necessary in Hueco Mundo, and most certainly not something a Leader would participate in. But now when stuck in this bland and boring world which the humans thought they controlled, then Nobara wondered if she would have to be forced to point her boredom towards the kitchen. Shizumaru might be a bit difficult to handle about that matter though. She was sure he wouldn't take it lightly if she was about to do any chores which were considered beneath her rank and nobility. But was there -anything- in this world that wasn't beneath her? She didn't think so at least. Backing out of the kitchen, she twisted around and listened. It was silent inside of the house, clearly Shizumaru was out somewhere. Perhaps he was checking the neighbourhood, or even trying to see if he would find a suitable job.

Nobara found her way to the bathroom and looked around in there with an indifferent and yet slightly curious look. It would be interesting to try out that bathtub later on, or so she decided. She stepped out of the bathroom and kept going, only to stop in front of closed doors. Leaning a bit closer to the door she closed her eyes and pressed her palm against it. This was clearly Shizumaru's room, she could both smell and feel it. Even if her rank clearly told she was able to do it without having to worry about it, then Nobara didn't open the door. She wasn't the least bit interested in invading others personal space, especially since she had always made it clear to anyone around her that she expected the same from them. So then, the last room was most probably hers.

Pausing at the door, she opened it slowly before peeking inside. "Interesting." It seemed fitting, comfortable. Something she would probably like and be able to feel content in. As expected of Shizumaru-san. She had taken off her boots at the door before entering the house, and now upon looking at the inviting rug on the floor, Nobara slid the socks off her feet and stood still while barefoot. The rug tickled a bit, and felt unbelievably soft against her skin. Smiling faintly, she stepped further into the room and sat down on the bed. The springs gave slightly in, allowing her to feel that it would be very soft to lie there. So far, everything was turning out very good. Nobara felt pleased with the work of her loyal Fraccion, and felt already more relaxed as she slowly allowed herself to lay down on her back on the bed which was supposed to be hers for the unknown time in which they'd reside in this world.

Her eyes were closed and her body relaxed, probably 10 minutes having passed since she had gotten onto her bed, when Nobara's keen ears picked up the sound of someone entering the house. Shizumaru probably knew right away that she was in there, if not just by seeing her boots, but also because of her natural fragrance of roses. Sitting quickly upright in the bed, she scooted out of it and stood up before walking out of her room. For a reason that was completely unknown to herself, she felt a bit weird. Shizumaru was about to see his Leader, dressed as nothing more than a common human woman, and Nobara felt a bit naked.. vulnerable for that fact. Stop this thinking. Shizumaru will only see you as the Leader and nothing more. Pull yourself together. It's still too early to start loosing some of your dignity, when such little time has passed after arriving in this world. She stopped, standing now at just a small distance from her Fraccion. It was weird seeing him also in such a "human" way, but she wouldn't mention that in any way.

"Shizumaru-san." A nod followed after the name had been dropped out as recognision of his presence. It was time for this mission to start, and thus it was also time for the 2 Arrancars to get used to their new life as humans.
_________________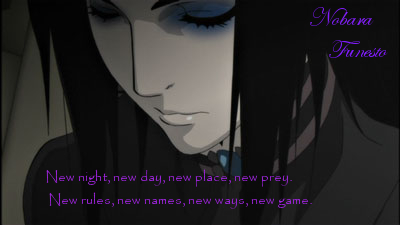 Demons sidle up sweetly
Laughing in the hole in my heart
Epic moment for me - - >

Nobara Funesto

Admin





Posts

: 72


Join date

: 2010-11-26


Age

: 32


Location

: Your closet, watching yaoi with sis.



(Excuse me..Were we even competing?! xp,cuz if so i might start taking things a little higher xp xp..you think you can catch up?! xP)
The town by now was very crowded,people were running around in every direction.
"Fools"
Shizumaru said to himself as his eyes scattered around the place looking at them.
"They don't know that they are in a dangerous place,that they could be eaten any minute now.
"Shizumaru didn't even finish the thought in his mind when he found a normal hollow on the top of a building having it's glowing eyes concentrated on the humans below.The prideful fraccion at first had his eyes staring on the hollow but he soon then turned his eyes sight to look away."
What are u thinking?!..I can't grab any attention here now.If that hollows finds that i am looking to it.It will know that i am a worthy enough meal"
..he thought to himself as he walked across the street.It was normal for a hollow to seek a worthy human with high spiritual pressure,It wasn't going to know that it's prey may be a thousand time more powerful that it.That was the reckless part concerning hollows.Just now Shizumaru became really alert as he felt a very weak spiritual pressure come towards him."
It can't be,there is no way i could have been sensed"
..he said to himself as he looked with the corner of his eye behind him to find a shinigami racing towards Shizumaru but before reaching him and before Shizumaru was about to finish that shinigami off in a flash he concluded that the shinigami wasn't targeting him but instead the hollow at the top.Now only was when Shizumaru came back to his human like self and continued his walk ignoring the two pairs behind him.But there was something intresting that Shizumaru noticed.It didn't pass a minute for the appearance of the hollow and out of nowhere a shinigami came down to hunt it.
"It seems the shinigami have started to look beyond there sector,this isn't good"
Shizumaru's chain of thoughts was interrupted all of a sudden by a street seller who wanted to sell Shizumaru fake looking necklaces claiming that they were rare valuable necklaces extracted from valuable jewels.Shizumaru was of course fooled by the guy,he did learn a lot about the humans but he still didn't get to know everything and everytime someone asked him to buy something he was afraid to say No.Since he thought that by doing so he would be up normal to all the other humans.Before Shizumaru was about to do a naive action in buying some of the necklaces,a police officer grabbed the street guy and arrested him then turned to Shizumaru and started to talk in a respectful manner "I am sorry,sir.But this man was just about to sell you fake jewelry .You should be more careful afterwards before buying things." Shizumaru sighed to himself and replied back to the officer.
"Thank you,Officer.I will pay more attention afterwards"
.He said while passing by them.
"What a pain, I wonder if Nobara-sama has received my message now."
He sighed out of boredom when he stopped in front of a large clothes shop.
"hmmm,i guess we don't have any human clothes back at the house."
Shizumaru smiled as he entered the shop and a young aged girl made its way towards him holding a wide cheerful smile."Welcome,sir..Would you like to buy something?"..she asked in a respectful way while guiding Shizumaru inside.
"Well,you see me and my lead-"
..Shizumaru caught his tongue at the last second before exposing himself..
"I mean me and my wife have just moved in yesterday.So we need a collection of clothes."
Shizumaru explained in a friendly way to the girl."Certainly,Sir.Right this way".The girl took Shizumaru to the men sector at first where there was all the kind of clothes Shizumaru could imagine classic,casual,formal,pjamas and a lot more.First the girl had to take Shizmaru's size so she made him wear a random t-shirt and concluded after several attempts his size.Now it was time for shopping as the humans said.Shizumaru started picking random stuff until he filled a huge bag,just then was when Shizumaru asked the girl to move to the women's sector.The girl now laughed slightly which made Shizumaru a little surprised."How will we know your wife's size,Sir.Why don't you bring her with you?"..The girl had a point there,of course Shizumaru didn't know such a private matter.But he still didn't want Nobara to come without finding everything fully complete and under her command.Shizumaru started to think while looking around him when he spotted a girl that appeared to be very similar in height and in width to Nobara.But still there was no telling how accurate that might be.He pointed at that girl
"Well she's a lot similar in size to that girl of there."
Shizumaru said in a friendly way to the girl.The salesgirl looked at where Shizumaru was pointing and smiled."Ohh you mean yuki,Okay sir just give me a minute."The girl left Shizumaru and walked over to that other girl,they seemed to be friends or rather partners in the shop.She started talking to her a little before rushing back to Shizumaru."Very well sir,would you like to go on now?".Shizumaru didn't actually have good taste to pick for himself so it was definitely a wrong idea to pick for Nobara.Add to that,there was private stuff in the women's sector."
I think it's more suitable if you pick for her."
Shizumaru smiled to the girl as he continued speaking."
But i would like you to fill 2 bags this time of different type of clothes and the most important thing is the quality of the stuff you pick regardless of the price"
Shizumaru explained carefully to the girl as she then told him to have a seat as she finishes the task.
It took the girl about an hour to finish the task given to her.Shizumaru wasn't bored of waiting as they had a T.V hanged in the shop and was broadcasting the weekly news and this was something Shizumaru needed for information.The man broadcasting mentioned how recently the death rate in a lot of towns near have decreased in a surprisingly matter and about how people were starting to feel safe once again and those who were planning on leaving town changed there plans.This wasn't a good sign at all.This only proved one thing,that the shinigami were starting to have control once again on human world.
"How come we didn't know all that back when we were in Hueco Mundo?!"
..Shizumaru asked himself as he tapped his shin thinking of an answer to that.It appeared that the shinigami were taking control in a very slow rate that made things unnoticeable to us hollows.
"Anyway,it won't be long now until everything in back to its rightful place"
..Shizumaru said to himself but he quickly returned to the cheerful human side as the girl came back with 2 huge looking bags the bags seemed to be very heavy to a degree that the girl wasn't holding them rather pulling them on the floor."I am done,Sir Anything else?".Shizumaru thanked the girl and gave her some change as a token of her hard work.He had learned such a matter from a man once who entered an electronic shop and started to send the guy working there right and left to get him several devices and in the end he gave him some change of money.Anyway the girl thanked Shizumaru and gave him the bill to the whole 3 bags.Shizumaru didn't look surprised to the number of 'zeroes' in the bill he just gave them the required money "Here you go",Shizumaru said as he noticed 8-9 women surrounding something that he couldn't see because of them.He then turned to the girl once again
"What is behind all of those women standing there?"
.Shizumaru asked in a curious way."Ahhh..They are observing a valuable necklace that came to us yesterday it is extracted from the Himalayas" the girls explained as she added."It is said by those who live there,That it gives who wears it eternal luck,also it is said to react with its holder's aura".Shizumaru looked amused to what she just said,he had heard about the Himalayas before.Actually,he had stood on top of it once when he was in the human world.He turned his eyes towards the girl once again "
Could you show it to me
?".Shizumaru asked politely .The girl nodded and opened one of the drawers to get a small blue box and opened it.The shining necklace was placed there and it's reflection could be seen in Shizumaru's eyes.The necklace itself was an ordinary one.The whole matter laid in the core of the necklace,the aqua small sphere.While Shizumaru was examining the necklace without touching it,the girl smiled to him "Do you plan on getting it to your wife as a gift?!" the girl asked curiously ,Shizumaru didn't have the idea in mind at all.The sphere just attracted Shizumaru's attention.He felt that it was reacting with his own spiritual pressure or like humans call it AURA as when he was just about to touch the sphere it started to turn dark blue but he pulled his finger away in order not to grab the girls attention to something like that.But come to think of it now.
"Wouldn't Nobara like something like that?"
.Shizumaru never actually got to know about Nobara's likes and hates or any other things about her character.His relation with her was nothing more of a master and slave in a respectful way.
"However,i am sure it will grab her attention as it did to me since it reacts with spiritual pressure"
.He said to himself as he now found himself staring at the girl without any need.
"Yes,indeed.I am sure she'll like such a beautiful necklace"
he said with a friendly smile on his face.The girl nodded to him as she closed the box and was going to put it in a separate small bag."You sure do look like you love your wife,sir" she said in a calm way as she gave him the bag.
"Love.."
Shizumaru whispered to himself,He hadn't heard that word for decades no for centuries.The word had been out of Shizumaru for a long time that he forgot what it meant.His face expressions became sharp slightly as he looked back to the girl and gave her his own bank account to withdraw the money from.Shizumaru hadn't actually been doing like Nobara collecting money until it was needed all he did was that he killed a very wealthy man and took all his cash and placed it into his own account.The girl looked surprised as she took the account information and started to type it in on the system,Shizumaru had been putting up a smile and a cheerful character until what she had mentioned earlier.So she was surprised on the slight change of mood.She now gave Shizumaru his card back "Thank you,sir.Please come again soon." she said with her usual smile.
"Yes,of course"
Shizumaru said as he left the shop.
He now placed the small bag of the necklace in his cloak's inner pocket and left holding the 3 bags without any kind of trouble,which when he left the store made everyone look at him surprised to how powerful the man was to hold 3 heavy bags like that without any kind of trouble.So Shizumaru had to fake things a little now to act normal.
"How weak those humans are"
..Shizumaru said in a bothered way as he started to act as if the bags were about to pull his arm apart.
As soon as he was away from down town and on the silent road towards the house Shizumaru started to act normal once again.Acutally,he started even rushing towards the house without much trouble.He then stood still for a little and left the bags from his hand as he placed he got out the small box that contained the necklace,he opened it once again but this time he took hold of the sphere and watched as it changed its color as if it contained a soft liquid inside that was changing color
Spoiler:
.He now placed it once again back in its box and continued his way to the house .By the time Shizumaru reached the house he dropped the 3 bags in front of the door and became cautious.Someone was in the house and that someone had no trace of spiritual pressure.He knew that someone was in because Shizumaru had put a blue ribbon at the edge of the door before closing it.The ribbon would fall by itself if anyone was to open the door but when he reached he found that the ribbon was already on the floor before he could even open the door.
"It can't be a human who is inside..but it also can't be a shinigami or hollow,there's no trace to any spiritual pressure"
.He said to himself as he started to make some slow steps inside the house and then he sighed in relief as his nose caught the natural fragrance of roses.No one had this kind of scent except Nobara and before he could call out to her as it was rude and disrespectful from him to wonder around the house looking for her,he found her walk out of her room and call out to him.This was the first time for Shizumaru to see Nobara like this,she as a totally different person now.Her looks with her face expressions gave the look of a normal human that's happy with her life.Anyway Shizumaru without thinking more kneeled down to her."
Nobara-sama,Forgive me for not knocking on the door.I had no idea of your fast arrival also my lady you hid away any trace of spiritual pressure.So it was hard for me to notice.I ask for your forgivness
".Shizumaru said in a total respectful way as he kept his head down.
He lately caught up to her nod which gave a sign of accepting his presence.So he turned around and went to bring the 2 bags that concerned Nobara and placed them on the couch in the living room."
These are some clothes i got from town
"..he pointed to the bags as he then got out the box from his cloak and gave it to her."
This is something i thought your majesty would find interesting and of high value that suits your presence in the human world"
.Shizumaru explained as he opened the box in her hands.He didn't know how she might react to such a thing.But anyway,That wasn't the case,Nobara's presence only meant that she is way serious and having to come this fast to the human world meant that they weren't here on a vacation or as so Shizumaru thought.

Shizumaru Hirameki




Posts

: 17


Join date

: 2010-12-12


Age

: 27



((OH IT'S ON! xD ))

Her eyes flew towards his, a moment of silence, before the male went down on his knees in the old manner of paying his respect or even saluting his Leader. It felt strangely comforting to see that, like Nobara had been sure that things would have changed drastically in this world. But perhaps things wouldn't be all that different deep down inside. There had been a flash of something in his normally indifferent gaze, perhaps it had been disgust at seeing his Leader stepping this low? Or was it simply a small act of surprise, to get to see that side of Nobara? He must get used to things just like I do, and him kneeling in front of me in public is something that should never happen. But nevertheless, he got the usual nod which acknowledged his presence and gave him leave to speak out if there was something on his mind that he had to let out. The bags which were behind him had already caught her attention, but she wasn't about to step so low as to ask what it was but instead waited on him to explain. Oh, clothes? She was already walking towards the bags when a new movement from Shizumaru caught her eyes and he was holding out a box towards her. Giving him a slightly puzzled expression, Nobara took the box and fit it in the palm of her left hand as she opened it with her right one.

Truly the necklace that lay within the box was captivating with it's beauty, although the Espada Leader showed no change of facial expression. She slowly lifted it up, until the stone was dangling right in front of her face so she could take a better look. The color to the stone had been very close to the color of Nobara's eyes, but as soon as she had touched it, the color rapidly changed into a dark purple color which seemed to constantly change a bit at the center of the stone. "This is beautiful." Those words meant the same as "Thank you", but Nobara didn't really find it appropriate to say something like that. Shizumaru should have not been thinking about shallow things like this, but instead been gathering information or start hunting for the Shinigami. And yet, Nobara didn't say anything while she opened up the lock on the chain of the necklace and slipped it around her neck before closing the lock. As the stone lay against the fabric of her shirt, the center of the stone mostly reminded of a small swirl of colors which changed from dark purple to lighter purple colors.

Glancing down at the bags, Nobara waited with checking what was in them. At least for now. First she took a good look at her Fraccion to see if there was something different about him. There wasn't anything which struck her, so she felt at peace. "As a human, do I seem different to you?" Turning her head and glancing out of a window, watching cars pass by on the road, she tilted her chin a bit upwards like the mere presence of them out there offended her. "I'm not sure if our staying here will truly have any difference in matters.. but I cannot just sit and wait for things to fall into my hands. That's not how I managed to get my current rank." She was halfway muttering under her breath. She didn't need to give Shizumaru any explanations nor reasons to keep believing in her. It was his job to simply do so. But nevertheless, she did need to voice this out.

"You would do good in remembering not to be too protective of me while we are in this world, and remember to keep up the human role whenever we are in public. It's not common for the humans to show great deal of respect towards others, so even if it will prove hard then you must treat me just like you would treat anyone else of your own rank." It was mortifying to think of probably, even so more for her Fraccion. But he had insisted on coming with her, and now he had to prove to her that it had been indeed something she would not regret upon allowing. If he would not prove worthy enough to stay with her here, she would feel greatly disappointed in him. And of course send him back to live in shame in Hueco Mundo until she would return.

Grabbing the bags she motioned to Shizumaru to follow her as she walked towards her room. She felt a bit bored having nothing to do and was sure it would be better to listen to him speak while she would arrange her closet. She would surely not be walking around this world in crumpled clothing. Leaving it up to him if he would sit or stand, she started opening the bags and look at each clothing she pulled out. There were many colors, but mostly colors she liked. Indigo colored shirts, black skirts, dark colored jeans, at least two or three beautiful coats and on went the list. There were also light colors there, and even some dressed. Holding up a rather small and light colored dress which wouldn't do much to hide her curves, and would work well with showing lots of skin, Nobara's eyebrow was a bit raised up as she turned her head and looked at Shizumaru. This was certainly an awkward moment. "Did you pick everything here?" Deciding not to question the purpose of that dress, she just put it in the closet with the other things while keep pulling up new things. Everything was very stylish and probably costed a large amount of money. But Nobara was pleased. She was far from being a snob, but she did prefer wearing beautiful clothes.

When both the bags were empty, she took a last glance into the closet before closing it with a content look. Walking towards her bed, she looked to the sides until she saw what she was looking for. "I already checked things before coming here, and I have found a place I would be at least content in working at. An old bookstore that's not too far from the house. It has an old owner which is probably not one of those that ask too many questions. Many pass by that bookstore, and I had already put out a motion not to directly attack that bookstore. Although I couldn't have made the order to stay completely clear of it, that might have raised suspicion." Her voice didn't hold any joy to it, like the voice of a human would after having found a job. This was just a part of what she -had- to do. "Have you found anything to your liking?" She couldn't easily imagine what Shizumaru could do, but he had many skills and would most probably be able to find anything he wished for.

Now reaching what she had been looking for earlier, she grabbed from her desk and raised up the newspaper for the day today. "What I noticed is that there are some unusual deaths occuring in Sector 7 along with a few others. But after having made the Research Department look back in time, then there were much more deaths reported than are doing today. I have no doubt that these "unusual" deaths are the work of Hollows, but I can also see that the way they are slowing down can only mean one thing. The Shinigami are starting to move. They are most probably trying to spread out their power to get more Sectors to control and protect. And of course, they are moving to get to Sector 12." Moving out from her room, she went to the living room where she sat down on a couch and crossed her legs in a comfortable way. Perhaps it was just an old habit of hers, to always have "meetings" in living rooms. It wasn't relaxing enough to be in ones private room when trying to discuss things. Naturally Shizumaru had followed her, making her wonder if he ever got bothered with her need to keep moving around while talking. Not that it really concerned her. "Needless to say, they must never be able to get too close to Sector 12. If needed I will check out the areas close to there and kill whom I will see. Or call for some of my loyal hollows that would do the killing." Indeed she did have in mind a few that would be able to do a good job of working fear into the hearts of the cursed Shinigami. She didn't hesitate when it came to crushing those that opposed her, and she also didn't hesitate to kill innocent bystanders that just happened to be at the wrong place at the wrong time. Maybe the Shinigami would even back down if she started increasing the killing of normal humans. A thought which was most certainly going to be tried out if it came down to it.

"Even if we have an encounter with a Shinigami, then we can't act in a too rushed way. We have to gain trust, get closer to having our questions answered. I want to know who their Leader is. I want to know where he or she is, and I want to know how to best approach him or her. Every name of every person we might think is a Shinigami will be memorized, along with the places we met them. And then if things are moving too slowly, I will lure the Leader out by killing off those people one by one. Surely that will attract too much attention, but we can't afford to wait too long. A slightly grim look crossed her face while she chewed on the inside of her lower lip. "I have reason to believe that amongst certain Espada, there is much rage towards my actions of coming here. So it would not be wise to leave Hueco Mundo too long without a close look. And the Shinigami are also starting to move, so too much time taking with the mission might prove fatal." Her most powerful Espada, Guerrero, had never tried to hide his lack of liking towards her being Leader and Nobara was not about to leave Hueco Mundo for too long. The lack of trust was very much mutual, but he was a strong addition to her army so she couldn't afford to put him out or lower him in rank. How bothersome... I wonder if he would be as eager to take my place if he knew just how much of a hazzle it is to have to have eyes in the back of your head also. Never be able to trust anyone.. it can make even those who are strongest get a bit tired.

"We must be careful, as on both sides we have to keep watching our backs." Of course she was mostly speaking of herself, since as the Leader she was the ultimate target for the enemy and also for those in the Hollow army which were searching for the right opportunity to rise up and try to do rash things on their own. Espada were always powerhungry, but some chose not to act according to that hunger. While others, such as those which were closest to Nobara in rank, they had a more deep hunger. She had no reason not to believe that if Guerrero could, then he would kill her. It had just been about a year since he had challenged her, and gotten beaten into submission again. But as always, that submission was only temporary. Nobara could understand and somewhat respect his urge to rise up and have his powers fully displayed, but since that meant working against her and her ways then she had no intention whatsoever to let that mad dog run loose. After the Shinigami would be killed, she would see what she could do about that troublesome Espada of hers.

But her words of caution were also directed at Shizumaru. The right hand of the Leader was also often a target, there were many who thought if getting to him they would get to Nobara. Surely she wasn't sure what would happen if such a threat posed, but it was as sure as Hell that she was not about to give up on her mission to wipe out the Shinigami. Now would her Fraccion understand that, or did he cling to the hope of her being able to fly to his help? Was she herself even that sure that she could turn her back on her right hand, the only person she had managed to work with for this many years? "Those idiots. They think they can just sit back and relax but would never actually step into things on their own account. And yet it is always so easy for them to jump immediately at anything that goes a bit against their own wishes." She spat out the words, her anger shimmering a bit in her eyes before it seemed to calm down. Clearly her emotions were starting to appear more and more on the surface now, but she still had enough control to push them back. "Even if those wretched Shinigami are nothing more than a pebble in our eyes, then they best us when it comes to working together. I can easily guess that is one of the reason why it's so hard to catch them. My army seems to be always too busy trying to figure out who amongst it's ranks is gonna stab who in the back next." A small smile lifted the corners of her mouth, but her eyes had a tired look to them. Maybe when all this was over, she could finally get the peace she so longed for? But ... would she ever get the peace while she lived?

A bit absentmindedly, she noticed a weird feeling in her stomach. Something she had not been familiar with for a long time. Hunger. That was one of the things she had to get used to now, after being stuck in this gigai. Glancing down at her stomach, she glanced then at the kitchen and wondered if there were the proper things there for tea making. And also if there was any food available. But it was completely out of her reach to be starting to make something for herself. Truly I have become very spoilt. Nobara couldn't help but shake her head a bit at herself, not fully knowing just when her thinking had changed that much.
_________________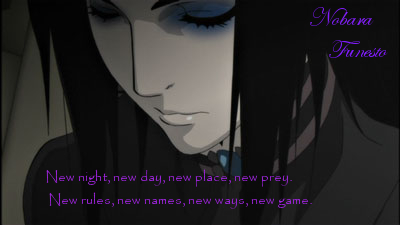 Demons sidle up sweetly
Laughing in the hole in my heart
Epic moment for me - - >

Nobara Funesto

Admin





Posts

: 72


Join date

: 2010-11-26


Age

: 32


Location

: Your closet, watching yaoi with sis.



(SO BE IT ! xp)

He didn't expect this kind of reaction from her regarding the necklace, He knew that she would like it but he didn't actually think that she would admire it. It seems that necklace really had the curse of grabbing its holder's attention. His eyes observed as she wore it and it's color started changing into dark purple which reflected Nobara's Aura."That girl better be right about the necklace bringing who wears it luck" Shizumaru whispered to himself. They were indeed going to need all the luck they can get for their mission to be a successful one, although he didn't tell Nobara about that myth in order not to make such a fuss about it and more he knew that Nobara doesn't believe much in luck and things like that.Shizumaru gave Nobara a small smile. He was happy she liked such a thing he brought but her way of talking has changed in a somehow cheerful way. Had that something to do with the mission?!,or was she just expressing her gratitude for such a small thing. This was the confusing matter of acting like a human. Shizumaru couldn't differentiate between Nobara's true feelings towards anything or just acting like a human for the mission."Glade you liked it Nobara-Sama"..He said in a calm way as he noticed her walk towards the bags of clothes and was about to start looking over them, but before doing that she looked at Shizumaru in a very weird way. It was as if she was searching for something at him, of course Shizumaru didn't argue or anything he just swallowed and stood silent for a couple of minutes before concluding that she was looking at his appearance as a human this was the first time for her to see him like this. But Shizumaru knew that he wouldn't look different at all, well for now at least since he used to wear a white cloak back at Hueco Mundo and now he was wearing a similar one but this time it was a Dark blue color. He knew that Nobara would seem surprised after he takes off his cloak. But that wasn't the case now; she asked a question that the long haired fraccion expected her to ask."Well..You certainly have the looks of a normal human my Lady" Shizumaru replied in a soft tone. But her attitude didn't change or maybe that was what he thought because he still looked up at Nobara as his leader not as a human.

"Act towards you like anyone of my own rank, but how?!",it was hard to believe after all these years that he may actually have to call her by a first name without a title and treat her like any female arrancar of his own rank. The idea itself gave him a shiver at the back of his neck."A-As you wish, Nobara-Sama" he said in an uncomfortable way. This was something he had to do, he had came here with her on a standard condition of obeying each and every order she commands however it may seem unlike him or even bother him. He wasn't going to allow the mission to fail because of over flowing respect from him.

He now followed her towards her room where she placed the 2 huge bags on the bed and started getting out the clothes within them. Shizumaru stood a few steps away watching Nobara get each dress, shirt, jeans and examine it carefully until she came across a rather short, light dress. Shizumaru now wanted to dig a hole and hide from the embarrassment it seems that foolish girl at the clothes shop he shouldn't have told her that it was clothes for his wife. Because it appeared she went through all the details. His face grew red slightly "Ummm..Well,No it was just i told the girl at the shop to pick the clothes for you.But it seems she misunderstood since i told her it was for my wife. Please accept my humble apology Nobara-sama"..He leaned with his head slightly forward and then returned back to normal. This was indeed an awkward situation and the first time to be placed in such a thing with Nobara. He never really cared about what she was wearing or anything but now in the human world she had definitely showed off some of her hidden female features that Shizumaru didn't notice in his leader back in Hueco Mundo.

Anyway, she had by now placed all the clothes in her closet and closed it. Then she started talking about another topic regarding their mission, something that Shizumaru had thought of when he first came here but saved the talk about it until mentioned by her and that was the unwanted pain by all humans, there daily boring routine. It was getting a job.He was slightly surprised that she had found a suitable job for herself at having just arrived shortly."A bookstore eh.." Shizumaru thought to himself, it was indeed a fitting job for her since it didn't require much effort and at such holding on to her dignity as the preimera and in addition, it also wouldn't raise any suspicions."Perfect thinking, Nobara-sama.I saw that bookstore and it is horribly rare to find any kind of up normal actions in it." he explained in a calm matter. Now the question was delivered to him, Shizumaru has also been looking around town for a suited job for him. He knew that if he was going to get any kind of important information he was certainly first to have to act like a normal human. But Despite all of Shizumaru's skills, he found it extremely difficult at first to find a job of his liking, all the free spots were in need of a cook, carpenter, butcher. Things that Shizumaru's pride found it low for him. The image itself of him wearing in a cook or a butcher was enough to have him kicked out of Hueco Mundo if seen. Yet, After a long search he finally found the kind of job he wanted. A job in a radio station that was exactly what Shizumaru was looking for. An easy job of high value. He wasn't just going to be fitting in as a normal human but also he was going to be subjected to all the information regarding karakura town and in certain the suspicious death rates and what so ever.

"I have found an interesting job that won't just help erase away any suspicions but it will also help out with our mission. A job in a Radio Station, Moreover, its not so far from here and it will supply me with all the required information about Karakura town"..he said in a cheerful way with a smile that made its way to his lips. Shizumaru now leaned with his shoulder against the wall as he watched Nobara grab a newspaper and he was amazed that she had come to the same conclusion as his."She noticed...Well Nothing less to expect from the Primera, But that means the shinigami are certainly on the move.This proves it." he whispered himself as he ran back to what he had seen when he was at the clothes shop earlier."That indeed is the same theory i concluded Nobara-sama,I heard about the decrease in death rate while I was at the clothes shop earlier. Those weakling Shinigami are at the move and they are also doing it in a very slow matter so it wouldn't be noticeable. But what they didn't know is that they are dealing with much higher intelligence" Shizumaru said with a bothered look on his face.He regretted not finishing them off all back at the War. He and the rest of the hollow army were drowned in their own sense of victory where they left the remaining Shinigami crawl like rats to the human world. But what Shizumaru didn't know was that their target was Sector 12. He looked at Nobara with a curious look.."How come Sector 12 in precise?"..He asked in a respectful way. As he then followed her out of her room towards the Living. Shizumaru sat down on the arm of the other couch in front of her. Where before she could answer his question, she once again stated that it was of high importance that those shinigami would't put the hands on Sector 12. That aroused Shizumaru's curiosity even more, this time he raised his left eyebrow "What's so special about Sector 12 my lady?!" he asked this time in a rather rushed way.

It appeared she was saving her answers for later after she had finished explaining everything. This time she was pinpointing out how to deal with others. She was right about everything she has just said.'Trust' was the key behind luring a shinigami. It was the basic principle they both were going to have to follow. But when her talk reached the point of there leader.A shivering feeling reached Shizumaru's body made his shake slightly."What was to happen when the time comes when they knew who the shinigami leader was and Was he stronger than Nobara or weaker?!" Those all were questions that had its place in Shizumaru's head. But No one yet was to able to answer such questions. He and Nobara would have to figure the answer of those kind of questions themselves. Shizumaru continued to hear her out carefully but this time she was speaking of a point he had truly forgotten and that was how things were going back at Hueco Mundo right now. It was an important matter and when she mentioned 'Certain Espada' he knew she meant the 2nd in command. He was nothing but a destruction machine, that could not be controlled except by Nobara herself and he knew that he has been looking forward for the right time to take over her place.But despite all that No one gave Guerrero a thrilled and pleased mood except Shizumaru when he is in his Resurrección form, Since at then Shizumaru becomes a berserk blood lusting tool. Which kind of suits Guerrero mood perfectly although Shizumaru get's in that form and mood to be able to train with a powerful higher rank like Guerrero. Guerrero just thinks of it like playing hide and seek where he also wears out Shizumaru each time not to mention having him at the edge of getting killed several times, but at least it also keeps his deadly head of his out from bothering around Nobara with his disrespectful attitude. However, Shizumaru now scratched the back of his head as he imagined now how Hueco Mundo would be with Guerrero all alone there. "Well i am sure Guerrero has other things in mind at the moment Nobara-sama" he said in a rather unconfident way because he really didn't know how Hueco Mundo would look like now. "But i totally agree with you, that we should act fast" he added.

"Watch our back..!!" Shizumaru didn't understand her quite well now. It sounded as if she was alert from being betrayed or as if she was positive the she was targeted."Is she still talking about Guerrero" Shizumaru asked himself. Anyway, whoever she meant there was Noone Shizumaru had met than could wipe out Nobara.She was on a completely different level. "Of course Nobara-sama, That's the main reason why i am here"..He said with a smile on his face as if to try and make her feel safe.Although if she was worried of such a thing, how would Shizumaru feel. But he thought that words like those may actually make her feel better. On the other hand, regarding Shizumaru he knew that he was nothing more than a bridge from start..from the day he became a hollow he was just a tool to be used for success. He understood that by heart and knew that Nobara would understand as well. There wasn't options in putting your emotions in a mission. Moreover, Hollows didn't carry emotions even if Shizumaru was starting to doubt that but he still clinged to the principle of putting his life on the line for Nobara's desire. So for him to watch his back wasn't that of an important case to him as watching the back of Nobara from enemies.

She was starting to become angry by the minute Shizumaru could feel it in her eyes."Was that a side effect of the gigai as well?!" Shizumaru thought to himself as he now started to try and calm the Primera down while she speaks. "Leave them be my lady, they will all be crushed and wiped out in no time." he said in a rather very calm and low tone. The atmosphere from around them was starting to become tensed but to his relief Nobara sound calmed herself down but she had a point in what she was saying. The shinigami have an upper hand in one thing and that was team work. They respected the concept of working together unlike hollows where each and every one worked for his own desire of either power or position and that was there most weakness and maybe the reason behind their downfall if it happened that the mission would fail. So Shizumaru basically didn't know what to reply regarding this, there wasn't any basic reason or answer behind this. It was a hollow nature to work separately and stab each other for power. Shizumaru now took a deep breath as the Primera seemed to have finally finished her long speech. It had been a long time since Nobara talked with Shizumaru about all her doubts, fears, and ambitions.

Shizumaru stood up and was just about to ask Nobara about something when he noticed her glance at her stomach then turn her eyes to look at the kitchen."Ohhh i completely forgot, she must be hungry". Shizumaru never really have to worry about the young female leader regarding food since she was always in her palace and served each second by her army of servants. Shizumaru wasn't that of a good cook but he had no other choice but go ahead and try fixing anything for her, he wasn't going to allow her to go ahead and bother herself with cooking.He made a few steps towards her slightly and called out in a calm tone."What wou-.." He kept silent immediately and his eyes went very wide. He had felt a sudden spiritual pressure on the roof and it was of someone trying to hide it rather than leave it be.He looked quickly into Nobara's eyes and he knew she also must have felt the same thing. Shizumaru and Nobara were unique at understanding one another from just eye contact. It would appear that there was a shinigami spying on them from above.

Shizumaru quickly turned and made some few steps towards the chair as he took of his cloak where he was wearing a black T-shirt and a pair of dark grey jeans underneath. He placed the cloak at the chair and turned with a normal face expression to Nobara.."Well Ayame,..What's for dinner today? I am starving..I've had a very rough day at work"..He said in a bothered way, he didn't know where the name Ayame came to him he just threw out the first name that came to his head. He also didn't know how to react with that Shinigami on top "What was the reason behind his presence here?!.Were the shinigami this sharp to investigate any new vistiors that move into town here?!.Were they this cautious?!"..That's what Shizumaru thought of as he now laid down on the chair acting in a very tired way. "So do you like our new home, Ayame?..I myself had a very nice day at work, the people here are very nice and helpful. But i am concerned about the death rates in this city. You think it's something we should worry about?. I mean we bought this house with a very high price from it owner but that bastard didn't tell us anything about weird death situations." his tone was very similar to a well mature man who worried too much. "Now what to do..Should i in a flash capture him or go on with the act and leave him spy as much as he wanted"..Shizumaru could conclude that the Shinigami wasn't that powerful, well he wasn't even of an arrancar level to what Shizumaru could sense. But he was certain that Nobara had already known what that Shinigami's level was accurately since she had a frightening way in sensing others.

Shizumaru now kept silent as he grabbed the newspaper and acted as if he was reading the headlines while he waited to get any kind of eye contact or order from Nobara to take action. Those shinigami were being a pain and from just the first day they arrived.Shizumaru from the inside had a change of heart regarding the mission. It was way more dangerous and tough then he or Nobara imagined and things here in Krakura town were much worse than they feared. But, Nonetheless, It was all going to be taken care of now. They may think they are the ones who have the upper hand in battle, but they certainly don't know that we are the ones who will win the war.


Shizumaru Hirameki




Posts

: 17


Join date

: 2010-12-12


Age

: 27



It was pleasing he had been able to find a job this quickly, nothing less than she had expected of him in the first place. It was also good to know she wouldn't have to hold his hand every step of this mission. That was one of the things that were in favor of him, how he was able to think for himself and act just as she wanted without having to ask first. And yet he also had the sense to not step too far. Made her sometimes wonder why he had never wanted to take more steps towards more power. He could claim an Espada seat, fight his way up. Become one of those which were closer to Nobara in strength. And yet, here he was. Seemingly only wishing to serve her, be her right hand until his life would be taken in a battle. Perhaps one of her Espada would even do that job. Doubtful, but when it came to the wild wolves called Espada .. anything was possible. Actually, now would be a good time to be able to study Shizumaru better. Rarely did they spend any -time- together, time where nothing was to do but casual talk. But from what Nobara could see, they would have lots of that type of time. And she could then perhaps get some answers to her questions. Not likely that she would return the favor, but it did truly puzzle her that he hadn't moved forward. He was not the only one whom she had saved in the beginning, but he seemed to be clinging more to that than the others.

As if speaking to herself she muttered in a low voice, as she thought about the clothes acquired earlier. "I will need a some sort of a hooded coat that can hide my figure and face from any view. I don't plan on always playing a some sort of a housewive and patiently chat with people. Some midnight strolls will be needed also." It wouldn't be difficult to sneak around the town in the middle of the night while clad in black. And if she would be spotted, well then she'd make sure to deal with that problem accordingly. Although only around 40% of her powers were available in this gigai, she would still be able to easily shake off any pursuits. Crossing her arms, she waved her hand a bit. "It wont be necessary for us both to take part of midnight strolls like that. Although your talents are praiseworthy, then I'd like to keep the sneaking around to minimal amount." It wasn't likely that any Captains would start to butt into matters unless something happened, but she had no intention of having to help Shizumaru out of a pinch.

"That job sounds fine to me, a good call you made there. It will be crucial for our.. life here.. how we start it out. Anyone curious at that workplace or do you get to be in peace?" Her eyes rested on his smile before turning away from him and resting casually on the wall across Nobara. His words had truth in them, but yet Nobara couldn't help but ponder to herself. A much higher intelligence, or are we just being arrogant? As before, the suspicion that they were up against more clever Leaders than before crawled over Nobara, but she would not voice out her thoughts but instead nodded in agreement with Shizumaru. He didn't have to hear the doubts or bother with thinking about what might or might not happen. His role was to observe and report without fucking up anything of major importance. It would be bothersome to have to replace him, but well no one would be able to start accusing Hollows of being sentimental. Her sharp gaze fell back on her Fraccion upon his question. At first there had been a slight look of disapproval upon her fair features before she pushed that back, remaining again indifferent. It would seem that perhaps more would change in this mission than just his outer appearance. It seemed like the curiosity was also getting spiked up. And more questions than she wished to have in her face were starting to surface. "You will get to know in due time." The earlier hunger was starting to slowly crawl back into the shadows, passing by just like any unnecessary thing. She guessed her body was simply getting used to these changes, but sooner or later she'd have to feed. If she'd find anything that suited her taste.

Nobara and Shizumaru both noticed at the same time this feeling of a Shinigami close. Very close in fact. Were they already aware that new people were in town? They act quicker than I would have expected. But indeed it seemed the Shinigami would be more fitting as opponents than she had remembered. A single, finely shaped eyebrow was arched upwards before Nobara rose from her seated position. Ayame? Very well then. It wasn't a bad name. She didn't need any time to think nor have to pause to react towards his acting. A sharp mind was something she could pride herself of on. They both knew it would be best not to give the rodent on the roof any reason to feel suspicious. So the game started. Finally, it would be shown if they were truly fitted for this world. As mere humans."Do noodles perhaps sound good, Light?" Her voice was the same as before, although the tone was a bit more .. feminine and caring. The name Light came randomly to her, probably just as randomly as her Fraccion had come to "Ayame". She started slowly towards the kitchen, her gaze straying up towards the ceiling as she did so. "Have you already met any decent people in your work? You should sometime invite those you like over here for dinner." It wasn't hard to pinpoint the exact location of the Shinigami on the roof, as well as sensing his level. Someone of the same rank as a 10th seat, most certainly not something to worry about. Although when the day would come that Nobara would actually start worrying, well Hell would have surely frozen over by then. He could listen all he wanted, if he didn't have anything more special to do. He hadn't arrived in time to hear anything that could have been of importance. But rather he was a good reminder for them both not to ever let their guard down when it came to their roles, not even when at their new home.

"Oh well now, such language isn't needed in this house." A smile entered her lips, making her crystal blue eyes sparkle in a way that hadn't happened since she was a Shinigami. Although she was just acting, her transformation would probably seem to be a bit freaky for those that were used to the rather cold attitude. "I'm sure this is nothing to worry about. I also like this place a lot, and I would hate to have to move somewhere new right away after having just gotten used to the idea of settling here." Her tone rose a bit as she had made her way into the kitchen while speaking and was now busying herself over looking for a pot before going for the quest of finding something to put in that. "I was going to check out that bookstore tomorrow and see if there is still an opening there. You know how much I love books." She was holding a pack of chicken noodles in her right hand, reading the instructions, while swinging the pot around with her left one. What the Hell? Is this really the amount for one meal? Grabbing 3 other packages, she went to the sink and filled the pot up with water. It couldn't really be that hard of a thing to do, to boil those noodles.. right? "Our neighbourhood seems rather quiet and friendly. I like that, makes me get a safe feeling." The pot was put on the stove and the heat turned up as she casually balanced the noodle packages on top of each other in her palm. Pausing, she glanced at a white apron with strawberry pictures casually drawn on it in a rather cute and artistic way. That seemed like a very housewifey thing to wear...

She wasn't planning on doing anything about that Shinigami, he would maybe tolerate listening to this normal and boring household for a good 5 more minutes before moving on. She knew there was no reason for him to linger somewhere where there was no spiritual sense to be found. While still balancing the noodle packs, and now being done putting on that strawberry apron, she peeked into the living room at Shizumaru where he was holding a newspaper in his hands. Huh.. only needs a pipe and fluffy slippers. Then the role would be perfect. For a moment their eyes met, and with her calm appearance she made it clear to just stay put. "Dinner will be ready very soon." Her voice danced around in a jolly manner, while the Espada Leader was again balancing packs of noodles on the palm of her hand while placing the other hand on her apron clad hip. With a swift movement, she flipped the noodles over her head, held out her other hand and caught them all in a neat pile in her other palm. Taadaaa Somewhere deep down inside she remembered having played around like this with another person. Someone very dear to her which she was bound to by blood. Perhaps it was not really something that should be considered as a memory, but rather a feeling. Something that her body itself remembered, but her brain refused to acknowledge.

"Ah, the water boils." She turned swiftly and made her way towards the pot, then opened up the packages and dropped the noodles in. Glancing out the window, she watched a few kids run by, before her attention went back to the stove. Having a kid around would have served as a better cover, but where the heck would she get one of those? She was sure there wasn't any thing such as a "baby rental", but she would be willing to check it out. How can humans actually give birth to these things.. It was degrading in way to think about. Rather, the process of starting as something of low rank and then fighting your way up. Clawing, biting, fighting with all you got, before you rose up as someone that was worthy. Now that was the way to do it. Not to be born as a screaming infant which had no powers whatsoever. There was nothing to them. Humans.. they were just.. there. Like cattle. Cattle for her Hollows. Snacks that ran around, took space.. were loud. And to think that each Hollow had started out as one of these humans. A small shiver of horror ran down her spine. Never would she want to go back to those times. Have nothing but strange feelings to rely on. No strength at all. Her thoughts were interrupted when she felt something familiar. Closing her eyes, she opened up her mind and "saw" where the Hollow she had felt was.

Perhaps a Hollow that had strayed a bit too far from it's Sector. Or perhaps it had known that there weren't many other Hollows in this Section and gotten too greedy for it's own good. It seemed to be a bit of a problem for most Hollows to be a bit overconfident in their skills. Arrogance always got you killed. That and starting to talk about all your plans before actually killing the person you were after. It was just.. amazing how much of a rant some could start on while having their victim at their mercy. Hmh.. this is.. just a middle level Hollow. Not something too fancy, but should have been a strong enough surge of Reiatsu for even the spying Shinigami to feel. And surely, she felt him pacing around. It was as if he was trying to make the decision over either leaving those two new people he had to figure out, or then go and be the little hero he probably thought he was. Off you go now little piggy...run along.. run and help your little human friends before they get eaten. A small smirk formed as she tilted her head to the side. He had chosen. There were no footsteps heard nor any movement really to detect, but with her sensoring skills, she was able to feel just as soon as he jumped from the roof and moved quickly in the direction of where the fight would be.

Well now that he was finally gone, she grabbed the pot from the stove and held it before her while wrinkling her nose a bit as she smelled the aroma of the -slightly- overcooked noodles. Were they supposed to be this mushy? And was this smell really good? Her stomach growled lightly, making the Espada Leader shrug as she turned with the pot still in her hand. Pausing a bit, she opened her mind a bit again, feeling when the two so different Reiatsu's found each other. The fight would begin now. She was sure the Shinigami had something up his sleeve, while the Hollow of this low level would probably only be able to count on it's primal bloodthirst. There wasn't much of a common sense or intelligence to be found in it's empty skull. Nobara loosened the apron before taking it off, and put it over a chair which was closest to her before she found the plates that would be needed for noodle eating, and then grabbed 2 pairs of chopsticks. The noodles got spilled on the plates, the pot thrown in the sink, and then she went into the living room with the plates. Her eyes narrowed a bit as she put the plate on the table in front of the couch, careful to hold her respect as she didn't directly hand Shizumaru the plate. Taking a seat, she motioned towards the not so good looking food as if giving permission for the Fraccion to eat, before she started struggling with the chopsticks. It was sure as Hell not an easy task to try and pick up slippery noodles with equally slippery damned chopsticks, and also trying to hold onto your pride and respect.

Her expression didn't change the slightest, although at each second spent struggling made her bite her teeth slightly harder together while soon her eyes were shooting blazes at the noodles. Might have been a bit comical to see, if this person holding the chopsticks and plate of noodles hadn't been the Espada Leader which had been famous for her bloodthirst in her earlier Espada years. Perhaps not the most comforting person to sit next to. Finally with a small victorious glint in her eyes, she gained control of the chopsticks and successfully managed to fish up a few noodles. With a small wrinkle of her nose, she brought the food up to her lips and then parted them, sticking the noodles inside. The small twitching of her right eyebrow might have been the only thing that could have given away how distasteful she found the food, but she didn't say anything. At least not outloud. What the fuck... no wonder the humans are so puny and weak when this is their food. She thought with horror about the fact that her "human body" would need to feed at least 2 or 3 times a day. She'd be sure to die out of foodpoisoning before successfully getting on with the mission. Her gaze went onto Shizumaru to see if he had found anything wrong with the food. Surely her tastebuds couldn't be this off? Naturally, it didn't occur to Nobara that it might have been a bit her own cooking's fault that the taste was this much off. She hadn't thought it was any problem just boiling water. And it was doubtful that anyone but one of a small intellect would actually point out that fact. She dutyfully shoveled the rest of the noodles into her mouth, careful not to let them linger in her mouth long enough for much of the taste to register. After being done and feeling at least a bit full, she put the plate down and hoped to whatever God there might possibly be that there was something else than just noodles in the kitchen. Perhaps this was the only type of food that was this bad. She remembered something she had been very fond off in her 2 other previous lives. It had been something sweet. Surely there was not a problem to find something in a random store that would prove as delicious. Perhaps not the healthiest thing to live on, but Hell.. it wasn't like she gave a rat's ass about her gigai body.

Glancing down to the table that was in front of them, Nobara picked up the remote and turned the TV on. Luckily, the news were just starting. Maybe she'd get something important out of that, perhaps some deaths in Karakura would be mentioned. While watching the newsman, she kept speaking in a sort of a monotone. This TV thing worked pretty well, but Nobara would choose her Garganta broadcast over it any day. "This small problem earlier will be a good reminder to us not to forget why we are here. We must not drop our roles at any time, although certainly we have to sometimes speak of things." Although it had been clear what button to have used to turn the TV on, she took a few seconds before pushing on the button to turn the volume a bit up on the TV. "I also expect you to give me daily reports, and you should do well in mingling with the others and get .. friends or whatever it's called. If you gain trust and are friendly, the more likely it is that you are accepted." In other words, he was supposed to act in a discrete way while earning trust, but also not do anything she would consider against her orders. Otherwise he'd be fucked.
_________________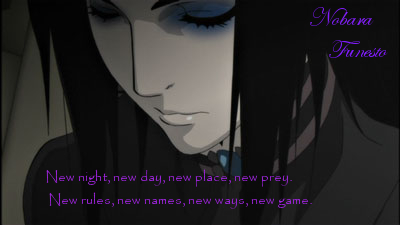 Demons sidle up sweetly
Laughing in the hole in my heart
Epic moment for me - - >

Nobara Funesto

Admin





Posts

: 72


Join date

: 2010-11-26


Age

: 32


Location

: Your closet, watching yaoi with sis.



It was somehow ironic to see this side of Nobara for the first time; Shizumaru found himself staring weirdly for a short while as he couldn't believe what he was seeing. He knew that Nobara would fit into act. But seriously this was too much; she had copied the role of a caring wife perfectly. He kept silent for a few moments trying to figure out or give proper assumptions to why that shinigami was up there. Even if it was for investigation, they hadn't yet laid foot in the house and all of a sudden a shinigami appears and he isn't stopping by chance, NO his here to spy. This had Shizumaru rather worried, not of course from the shinigami himself that was spying. If he wanted, he would blow that shinigami up to Smithereens. But he was worried from his higher ups that may have sent him here. "Did I mess up somewhere before Nobara arrived?!" he thought to himself as he raised the newspaper slightly up to try and ignore all what's around him in order to give himself a little moment of solitude where he could sum up all what he did from when he arrived at the human world till now. He found that he didn't encounter a lot of people; he had met the old man who sold him the house, the sales girl at the clothes shop, the banker and the manger at the furniture shop. That was about it. "So why the hell is there a shinigami up there now" he asked himself curiously. Shizumaru was really starting to grow frustrated from the inside, he believed that Nobara may blame him on the sudden presence of a Shinigami and that was something that would extremely bother him. Since he wanted to complete the whole mission with her without a single mistake and there that weakling of a shinigami shows up not too long when she arrived.

Anyway, his massive chain of thoughts was interrupted as he returned to the field of reality when Nobara suggested if he would like to eat noodles, well of course she wasn't asking him in person it was just to go with the act. Shizumaru knew that Nobara wasn't that much of a cook so she probably just suggested what she would be able to fix. The interesting point in what she said would lie in the name she picked for him. "Light eh!..Very well" He found that name fitting to his character and personality, he was sure it was just a random picked name but it would do the job until the mission was over. They both wouldn't want to break there cover on such a naive mistake like names. "Sounds delicious" Shizumaru replied in a calm way while he turned the page of the newspaper. He wanted to like stand and go help her out with what she was doing. Nobara was always served in Hueco Mundo by armies of servants, so for her cooking would be like asking a baby to run before learning to walk. Yet, he was sure she would get over it. Now she appeared to like want to open some random discussions for our little fly that was spying up there. Shizumaru placed the newspaper on the table in front of him and got out a pipe from his coat where he started smoking. He had seen a commercial once while he was in the human world before about this thing called pipe, they would inhale the smoke and exhale it in what they believed would make them feel relaxed, of course the male fraccion was just doing it to go with the flow. "Well yeah, as i said there are some nice people of them. But we can't be too confident in people these days. It would take time before I trust them on entering our house" he said as he stood up now and went to lean on the kitchen table to observe what Nobara was doing.

He realized that she was fitting really well now; maybe she didn't really need a right hand on this mission. As soon as he heard her mention the word work he sighed heavily "Ayame, Still keen on getting a job?!" he paused as he watched her get out a pot and start to read the instructions on the box. Shizumaru in reality had no argument of course about her job; it was just the role of pulling a slight argument about something that he knew any two would do. "Didn't we talk many times before about that?!, Anyway, I'll have to go and check it out first" he said in a caring matter. Shizumaru found himself afterwards uncontrollably helping her out with whatever he can; he opened the 3 packages for her. It really wasn't that hard to make chicken noodles after all, he thought it was a real pain in the ass and that he would somehow need to step in a help Nobara with whatever he could from cutting vegetables maybe to everything else. Shizumaru knew that he would need to buy a cook book afterwards to learn how to cook nice made meals for them both. There gigai's wouldn't be able to survive the entire mission on just noodles. Just now, he turned his calm eyes to look at Nobara "Well I think they are, even if they are a couple blocks away from us. We can still call them neighbors." he replied in a sarcastic way. This was something new for Shizumaru, his way of speaking was either cold, calm or respectful but to add funny jokes and sarcasm to it. He was indeed going to start to change into a character he wasn't likely to approve off. "Yet, I am sure there isn't anything to worry about. All those words about ghost killing people are just lunatics that need to get a life" his voice and face expression changed now in a bothered way.

Shizumaru's eye twitched as he found Nobara wear a strawberry like apron. He found it very weird for the all mighty Espada leader to wear an apron. He was just about to face palm when he remembered that there was still a shinigami up there spying on them. He now placed the pipe on the table and observed as Nobara continued to prepare the meal. "No need to rush" he explained in a low tone as Shizumaru kept his guard up noticing that the shinigami was starting to wonder around at the rooftops. Shizumaru himself hadn't even been up there yet. The old man's remains would be the only stuff up there. So particularly, if that shinigami was looking for any solid evidence he was for sure wasting his time, Nobara was never the foolish type to depend on papers and written plans. Everything was to be found here in their heads. He now noticed her saying that the water was boiling and watched her put the 3 noodle into the boiling pot. Just now, Shizumaru noticed that the Shinigami's spiritual pressure was growing unbalanced. It appeared that there was a hollow who also sensed his spiritual pressure and thought of having himself a nice dinner. The shinigami had to leave now to go hunt that hollow down and maybe also report back to his higher-ups about Light and Ayame. Shizumaru couldn't help but smile to Nobara's evil smirk. Everything was now safe and back to normal. Shizumaru quickly interrupted Nobara "Allow me to continue instead of you" Shizumaru's tone had returned back to its normal cold way. Yet it seemed the Espada leader was enjoying her time while making the noodles so there wasn't any need for Shizumaru now to be standing like that there in the kitchen. He walked back out to the living room to give her the space she might want. As soon as he threw himself on the chair he smelled a weird scent. He couldn't tell if it was a nice smell or otherwise but what he could define that it was coming from the kitchen. That was a sign that it was time to eat, Shizumaru started to think what it may taste like when he observed Nobara walk back into the living room and place the plates on the table and gave him a permission to eat. Regardless of what it tasted he was going to force himself to eat it, he wouldn't want to make her feel upset after all that work she did. He grabbed his pair of chopsticks and here the battle began between him and the chopsticks to try and even catch a single noodle with them but in vain. He had never used this kind of tool in eating before when he came to the human world, he would always use either a spoon or a fork. He didn't also want to appear foolish in front of Nobara, despite noticing that she also was having a hard time at first just like him. After several attempts, he finally was able to hold some noodles with it as he grabbed them and throw them into his mouth. There taste was horrible, this was the most disgusting thing he had ever tasted, he wasn't sure was Nobara the reason behind it or was the meal itself this nasty in taste. He forced himself to keep his calm feature as he continued to quickly swallow the noodles up. Yet, there seemed to be no end to his plate, after he had finished more than half the plate he turned his eyes to look at Nobara "Thank you Nobara-sama, for this delicious meal but I am full" he said as he pushed the plate aside slightly.

He now stood up and went towards the bathroom to wash his hands, he was starting to get used to walking more freely in this gigai, the science department back there in Hueco Mundo have sure developed in such an interesting way, the old gigais they gave him were tight and uncomfortable, not to mention that he several times got nerve pluses and a lot of sudden reflex actions from it. But this new one was perfect he for the first time from decades even centuries. He felt human again. "Is this a good sign?!" he whispered himself; he didn't need to give the matter all the least thinking. This was just temporary; it could even be one of the gigai's effects to gain some emotions like humans. He was sure everything would get back to normal, he would return to be the cold hearted killer he once was after the mission was over. He finished washing his hands then dried them with a nearby towel that was hanged and went outside to see what Nobara was doing, he found that she had turned on the TV and was now watching the news carefully. He was sure there wasn't anything more she would find, he had updated her with everything since her arrival. Now she pinpointed out something that was indeed important, this past incident was sure a mark to never let down the role of Light. They have both known now how cautious those shinigami were and organized and prepared they have become. "Of course, my Lady. But I doubt that he will come again." he said in a low tone as he leaned against the wall behind Nobara.

If he was here for just inspection, then he wouldn't come again since he had seen with his own eyes that the new two figures living here were nothing more than a husband and his wife nothing out of the ordinary. Yet, if it happened and he came again then that would be a call for trouble and that the shinigami had put them in their black list. He was sure at then Nobara would ask him to catch the shinigami and they both would force him to speak of what the shinigami think about them both. However, these were all just assumptions that crowded in Shizumaru's head. Now Nobara changed her point to something else, she mentioned that Shizumaru should make 'friends'. The last time Shizumaru heard that word was when he was in Soul Society in the academy. He had forgotten what a real friend means. Maybe he never really had one. Even his relation with Nobara wasn't that of friends. They were nothing more than a master and slave. That's what he thought and anything in the middle that might have happened and seemed odd was nothing more than an act that was required to fulfill a certain purpose.

"I will try my best to fit in, I am sure I'll get to know a lot of people when I start my job in the radio station and who knows. Maybe I'll luckily bust into a valuable source. Regarding the report, I will for sure give you a daily report and each and everything i see and know." he replied in a respectful way. Yet now, he remembered something he wanted to comment on but he didn't have the chance since the shinigami suddenly appeared. Nobara had mentioned earlier something about midnight strolls and certain kind of material she will need for that. He wanted to know what benefit a midnight stroll would be. "She isn't planning on breaking into the shinigami's head quarters at night..is she?!!!" he asked himself in a puzzled way. "If those are her intension then that is suicide" He continued whispering himself. Shizumaru knew Nobara's capability very well. But if she is going to jump like that into the unknown, even she would fall. Power wasn't that only thing behind victory. There is a human saying that the bigger they are, the harder they fall. Shizumaru wasn't going to allow Nobara to do something foolish like that. "Excuse me my Lady, Why midnight stroll?!.. I am sure there won't be anyone awake at then. Is there something on your mind?!" He asked curiously. The coat she was asking for was something simple to get, even he wouldn't find something like that in stores he would just steal it from anyone. He wanted to know the reason behind something like that before further talk. He wasn't disobeying or questioning her. He was just concerned by the idea. Sometimes Nobara could be driven away by her angry emotions towards shinigami, this was the time when Shizumaru had to interfere and like talk her out of it. Yet despite all that, he decided to go with her flow but also get to know her true intensions "Your wish is my command, I'll bring you that coat tomorrow" he said with a slight bothered look on his face from the whole idea.

A moment of silence spread throughout the room as Nobara quietly continued to watch the news. He was surprised that she didn't comment on the shinigami that came here earlier. Shizumaru was deeply concerned with the arrival of such an unwanted visitor. "Forgive me if I say, You don't seem concerned with the shinigami that payed us a visit a little while ago, Do you think there is nothing to worry about behind this weird and fast visit?" he asked in a noble way as he walked to the other side of the room and stood a few steps beside the TV to now have a better look on Nobara's face. He was waiting for an answer from her patiently now when his ears heard something really odd, interesting, frightening. Shizumaru couldn't tell exactly. The news broadcast was mentioning that the death rate in sector 6 has decreased to nearly reach 0, This was something impossible, hollows were found everywhere around karakura town, even if the shinigami were on the move. It was practically unbelievable for the shinigami to wipe out nearly all the hollows in sector 6. The idea itself gave Shizumaru a slight shiver, they now were only well in power but in number as well. A move like that didn't only require powerful shinigamis, but also huge number of them to be able to scatter around the whole sector. In addition, sector 6 was known to be the biggest sector of them all. He looked with the corner of his eye at Nobara to see her reaction, he was sure news like that would make her angry to the degree that she would like cero the entire house and blow their cover. Shizumaru didn't know what to do; there was no kind of words in his dictionary that could calm Nobara to something like that. Her army of hollows was starting to be devoured each second. It wouldn't take long now until the shinigami would have full control over the human world and there victorious war would have gone in vain.

Shizumaru just decided to try and fake it, he sighed in boredom as he turned to face Nobara once again, "These carppy news channels, they never tell the truth. They must be afraid that the people of Karakura would panic and run away. So they are giving them some fake news to live with" he stated wishing that she would buy the act. He knew that Nobara was the sharp one and wouldn't be fooled easily. But he had the slightest hope that she would just say something like 'you are right'. But to wake up to reality again, there was a war ahead and they would certainly need back up from some of the Espadas. Shizumaru's mind flashed backed now to the continues days of wars he battled in Soul Society. He was one of the leaders with a huge sum of hollows under his command. That was a prideful day for him as well as all the other hollows. They called upon their rain of terror over all the shinigami and they didn't stop at that, they took the battles onto the human world as well and if it wasn't for Nobara who felt pity on their unworthy weakness, the race of the shinigamis would have been extinct by now. However now, this image was starting to fade away, maybe the reason was the new war to come or it was a sign that they were the ones falling. "Is the era of the hollows coming to an end?!" Shizumaru thought to himself, he would rather die before he could witness the day when the shinigami had the upper hand on them


Shizumaru Hirameki




Posts

: 17


Join date

: 2010-12-12


Age

: 27




---
Permissions in this forum:
You
cannot
reply to topics in this forum