The Staff!

Mei
can be seen to be happy at one minute and angry the next if you say a wrong comment. Sometimes unpredictable as she is, she can be quite predictable. She loooves Yaoi so much and is usually seen doing stuff to males with her sister, Nobara. But this yaoi fan-girl means well, and wants everyone to get along on her site and wants it to be one of the best. Be careful around her and Nobara, they're usually the one to leave you shocked- or scarred. but they mean well... Maybe. And, usually you can see them bickering over pandas, cause Mei looves them while Nobara despises them.
~~
Nobara
, random, often hyper, friendly to most and as unpredictable and lethal as one of the volcanos on her freezing lil island. She's a yaoi fangirl which strives to make everybody around her become victim to her man on man hobby. Be careful never to turn your back on her, or you will find a sharpened toothpick between your shoulder blades. Her cheerfulness and hyperness often spike when around her beloved sister, Mei the head admin, and they do enjoy wrecking havoc. Mention dolphins or pandas around Nobara, and you will get killed. No questions asked. Nobara enjoys torturing
lifeanddeath
whenever she can.
~~
I don't know what to say in this tiny little box. What do you want from me people!? WORDS?!
With a yawn and probable shrug of indifference we arrive at the final Admin.
lifeanddeath
, an insomniac that constantly has to fend off random attacks from his two fellow admins who are certain he should star in their latest yaoi fanfic. Also known as LAD, Life, Lifey, Bitch, and Man Servant depending on who you ask. His often relaxed and often silent manner, might just leave you wondering if he fell asleep mid conversation, at least until he randomly joins the conversation, but it is likely he may disappear quickly afterwards. You could wonder what he might be doing in that silence, perhaps working on one of his ridiculously long apps, modding, or in the rare case sleeping. Whatever he is doing, you should be careful not to mention
knifes
....any sharp objects.

There wasn't a single cloud on the blue sky, as the sun shone effortlessly down on the ground. Scorching anyone which wasn't properly dressed to the heat. The wind was but a gentle breeze that barely moved the grass on the ground. Due to it being such a nice day, Nobara had decided to go to the beach. But not alone, oh no. She had decided to bring with her both her sister and Keira. Even if the 3 females were different, then they seemed to agree on some things and most often when they had gathered somewhere then fun was sure to follow after. And well, Mei was after all her beloved sister, whom she shared so many thoughts with. Nobara was dressed in a large white T-shirt and wore black shorts, with matching black flip flops, while walking towards the beach with a basket in one hand and a large towel in the other. Over her raven black hair which was in long pig-tails like always, she wore an orange sun hat which shielded her sensitive eyes and skin from the sun. "Perfect day .. for some swimming." Her naturally pale skin seemed overly white even against the white T-shirt, and she would probably look like a snowcone compared to the other people on the beach. It wasn't her fault she was a Hollow and couldn't get a tan! Rather if she didn't put on enough sun lotion, she had the risk of turning as red as a lobster before just returning to the pale color.
Did I remember to bring everything with me?
She had a melon in the basket which they could split up, there was also sunlotion in there, sunglasses, drinks and some snacks... extra pair of flip flops and another towel. Probably didn't need much more, but she was a bit of an amateur when it came to the beach trips. Her glance went to the red head sister before going towards the blonde which was walking with them. They were both very natural and beautiful, making the slightly gloomy Espada wonder if she looked like a ghost compared to them. It wasn't in her nature to really compliment her own looks so she didn't really think about how smooth and beautiful her own skin was, or how it matched her eyes perfectly along with the raven black hair. Rather, she just looked at herself like a walking corpse. But maybe no one could really blame her. It wasn't really good for anyone's depressive side to die twice, and after the second time become a Leader of tempermental monsters/corpses. "This is a good spot?" Coming to a halt, she looked around. Somehow, she had been leading the walk as she had glided past people which were sunbathing or ducking under flying volleyballs which were sent through the air like bullets. And now, they seemed to have found the perfect spot...finally. Not too many were around, and there was enough room for all three of them to put their towels down and lay there while baking in the sun, or then rummage through the food before going swimming.
She set down the things she held, before grabbing a hold at the bottom of her shirt. For just a moment she hesitated before pulling the shirt up and over her head. The shorts followed after and the suddenly slightly shy Espada Leader stood there wearing brand new dark blue bikini which she had bought the day before.
How I hope they are also wearing bikinis.
It felt overly embarrassing for her to reveal so much skin, and she awkwardly crossed her arms while shifting a bit around. Truly she wasn't sure on what kind of a crazy impulse she had bought this, but the day before she had dragged Shizumaru with her to many kinds of different stores and tried on swimsuits most of the day. Making her poor Fraccion be the judge of what was good looking. In the end they had agreed on this pair of bikini, although Nobara had wondered if her Fraccion was feeling ill for his face was very red and it seemed he had some trouble talking properly to his respectable Espada. "Does it look... alright?" She turned a bit to the side, glancing at the other two females while having a faint red color spread over her cheeks. (picture of the bikini - - > )
Spoiler:
_________________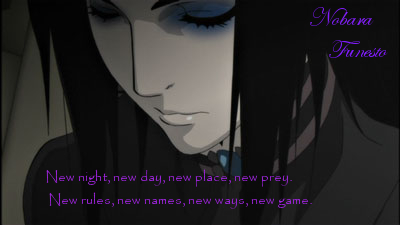 Demons sidle up sweetly
Laughing in the hole in my heart
Epic moment for me - - >

Nobara Funesto

Admin





Posts

: 72


Join date

: 2010-11-26


Age

: 32


Location

: Your closet, watching yaoi with sis.



Keira was enjoying the summer day. Sure it was hot but that only made it all the more better for the woman. She was wearing a blue T-shirt that was extra long and ended right under her bikini bottom. So as she walked people may have gotten a peep at what was beneath. Though it didn't really matter as they were at the beach. She could get away with it.
She had some black flip flops on. They gave at least an inch of lift on the heel but otherwise they were fine and easy to walk in. Especially since they were walking over dunes of sand. It could become tiresome easily for their bodies that were in Gigai. Keira wasn't sure what Nobara had on. She wondered if it was a Hollow type gigai? Maybe one of her minions had made it for her?
Now that she really thought about it the situation was really strange. Two shinigami and a Hollow. Going to the beach. Wearing bathing suits under their clothes for a fun day in the sun. She wasn't sure if any of the other shinigami knew of this predicament. She doubted it. Mei may have had power but she didn't have absolute rule like Nobara, the Primera did. She couldn't order anyone to shut up and ignore them hanging out with the strongest Espada.
To be honest, Keira was only slightly worried. Nobara may have been her natural enemy but she personally didn't have anything against the woman. Sure, back in the day she had had an intense jealously for her but that was in the past. She wanted to make things better. She wasn't really sure HOW that would happen since Nobara was her natural enemy and she was sure in the future she would have to kill Nobara's loved ones and maybe even fight Nobara herself. So, it wouldn't really help anything except for her conscience.
Keira should have been terrified for her life. After all Nobara could blow her away at any given moment and probably wouldn't even break a nail. Keira had faith in her commander though to at least try to protect her if any harm came. Not to mention Nobara may have been the most powerful espada ever but she also didn't seem like the kind of person to just kill needlessly. At least Keira didn't think she would kill her on the beach and ruin the fun for the day.
Soon Keira was brought out of her musings as she realized how many people were staring at them. Most were of the male variety though she did spot out a few women salivating. She smirked at the thought of all these people staring at them. They WERE all good looking enough to draw a crowd. Nobara was the type to at first glance, probably get the guys that were more shy. She did have a slightly fragile look about her at first glance. But Keira knew she would probably get the dangerous guys after her if they knew her personality.
Next was Mei. She was the opposite. She would probably attract the normal guys first and then after that it depended on what personality she would use. For her happier type she would probably continue getting a large amount of the normal guys. But if she used her hardcore, commander like personality then she'd attract the more kinds of guys that only want that one thing. Keira was just glad she didn't have to babysit though. Both women could handle themselves.
As for Keira, she wasn't in much of a mood for running off with a guy and ditching her friends. It didn't mean she couldn't play around and enjoy the attention. As for the two Keira seemed the most laid back at the time. This was her environment after all.
Once at the spot where Nobara wanted they set up their beach equipment. "I think it's a pretty good spot. Close to the water, far enough away from the other beach goers, and it's got a great view. I think it's perfect," Keira said reassuring the Primera Espada.
Keira watched as Nobara shyly pulled off her shirt. It was kind of cute and she saw a hint of the woman she used to admire so much back in the days of the seretei. Keira nodded at Nobara's question. "I think it looks great. It matches your complexion as well. You have to tell me where you bought it," Keira gushed.
Keira followed Nobara's lead and pulled her T-shirt off. She grinned as she pulled it slowly off creating quite a show for a few people that were nearby. Keira grinned as she shook her blond hair out a bit. She had left it down for the day. She had tried a few styles earlier but had decided to go with the normal look. It seemed easiest and accented her bikini nicely.
Keira's bikini was pretty plain but with her bust and olive colored skin, a more stylish bathing suit would just be too much. After all a bikini was supposed to be for women to show off their bodies and curves. Not for style. At least in Keira's opinion.
Spoiler:

squirrel101




Posts

: 81


Join date

: 2010-12-30


Age

: 27


Location

: Heheh, wouldn't you like to know? (winks)



Mei seemed to be enjoying herself with her sister and Keira as they arrived at the beach. It was quite a hot day, but if anyone took a look at Mei, they would think she wasn't even the least bothered by the heat. But, being in a Gigai
did
bother her. In fact, she found it uncomfortable sometimes, but she never showed it. The young Captain-Commander forgot how they all decided to go to the beach. But, really? The Primera, a Captain-Commander
AND
one of her subordinates enjoying a hot, summer day like nothing is wrong? A few of the Shinigamis almost blew up on Mei, saying why she was letting the Primera live, and going out with her this day. Mei gave no response, but she knew that the reason was because she missed her sister. It's been so long that she wanted some quality time with her, even if she is the Primera, and if it meant having one of her Shinigamis come, then she wouldn't mind. Mei walked beside her sister in a white shirt that seemed to big for her, and it ended around her upper thighs, covering her whole bikini.
Some men were looking their way, making her glare quickly at them, almost
begging
them to try and actually do something, especially when her sister was with her and her subordinate. Mei couldn't kill the human males, but she would embarrass them. It was always fuun. Mei left her sister in charge of the food and drinks. She had no problem on what Nobara would decide. Unless it was alcohol. Mei detested alcohol and would only drink it when she was stressed out. Anything other than that would just make her have a repulsive expression that looked like she was going to puke. "Seems like a good spot, sis." The woman responded towards her older sister, turning her eyes towards her before going back and eyeing the area of any idiotic males that could be around.
Mei watched both girls take their shirts off. Her sister, being the first and looking rather shy while showing off her body almost made the Captain-Commander chuckle. Her silver eyes took over her sister's form and smiled; a rare expression the Shinigamis would see from Mei, but it was usual with her sister. "Stop being so shy, dear sister. You look wonderful." And then she turned to Keira and smiled, too. "You too, Keira-san." Then, it appeared to be her turn to take off her shirt. Mei mentally did a sarcasm "oh, goodie" before grabbing the ends of her shirt and lifting it off slowly, revealing her two-piece dark-blue bikini which had what appeared to be stones around the straps that shined in the light, and light blue roses on top and bottom of her skirt-like cover. The red head scrunched up her nose, not liking that she was showing off a lot of her body. "Annoying." Back to the old Mei every Shinigami knew for awhile.
(BIKINI - - ->)
Spoiler:
_________________
Credit goes to:
lunarflowerangel
from On The Edge!
The Shinigami girl seemed surprisingly at ease despite her company, but Nobara could still feel the slight fear that trembled around the girl's aura. She would have to compliment her though on being able to hold her face in that brave manner. Truly, it might be a waste to kill some of these Shinigami. Her eyes glanced at her beloved sister before turning back towards Keira whom had apparently been speaking to Nobara. "Oh well thank you Keira-san. I will have to call Shizumaru later on and ask him for the store's name." She allowed a small smile to lift the corners of her mouth slightly, before she looked over Keira's outfit. It looked very.. cute in Nobara's eyes, and she wondered if she would ever be able to pull off this "cute look" like that young girl did. Mei's rather amused voice made Nobara's crystal blue eyes turn towards her, and a small and shy smile appeared again on her lips. It felt a bit.. weird she guessed to be having this moment.. this day with the other two. Shizumaru hadn't said anything against it, but she knew that he would have liked to protest. Surely it wasn't suitable for a Leader of the Espada to mingle like this, and in public at that. But perhaps he just knew better than be pointing it out. She had ruled for many years now, without fail. Surely that had some saying about her personality and abilities as the Leader.

"Thank you sister. I must say you both look very beautiful. I feel rather lucky to be in the presence of such fine companions." There probably wasn't too much left of her old personality, as the Nobara who stood there in front of them was used to speaking in a formal way. The old Nobara who would have randomly cracked up in a laughter or had a random flirt with a stranger was long dead. And yet, there were some glimpses here and there of her. Alright, better start taking care of some of this stuff. She lowered herself down and spread her towel over the sand before kneeling on it. Then she started picking out of the basket some water bottles, the melon and a few light sandwiches in case they got hungry. She had even gotten some salt for the watermelon if anyone preferred that. Let's see.. wasn't the knife somewhere around here?

"Watch out!" A rather loud shouting caught her attention as she was still in her quest on finding the knife she needed, and as Nobara looked upwards she saw what the shouting had been all about. A volleyball was at full speed, aiming right at her and the other girls. And a small group of young looking males were coming running towards them while flailing in warning. "What foolish thing is this?" She stood in one swift movement, and remembering that since she still had 40% of her original powers in this gigai, then there wasn't really anything to hold her back. So like she was made of light feathers, she jumped upwards right there on the spot and did a full backflip in the air. The ball whom she had been watching and aiming at, came into contact with her foot as she spun in the air, and it got sent back towards the males at at least 5x the original speed. "Oooh how did she do that?" They came to a halt with a dumbfound look on their faces, while one who had a shoulder long black hair jumped up in the air, aiming to catch the volleyball. However as his friends started advancing closer to Nobara and her friends, they failed to see when the ball came in contact of the unfortunate friend who had been going to catch it. He ended face down into the sand with a red ball mark over his face, completely KO'd.

There were 4 males which approached the girls. A blonde guy with a shoulder long hair and sparkling blue eyes, a brown haired guy with a slight hint of beard and chocolate brown eyes, a black haired one with a rather spikey hair and silvery eyes and then one who was more tanned than the others and had sunglasses which covered his eyes. He had rather long dreadlocks. All of them were muscular and handsome, and clearly used to having girls swooning over them. "Well hello there girls." The one with the sunglasses pulled them a bit down while raking his gaze over the girls who stood there before him. "Are you alone here?" Nobara raised a slender eyebrow as she placed her hand on her hip with a rather annoyed look on her face. "Do you see someone else here besides us? Isn't that a rather obvious thing?" It seemed that he was close to wiping some drool from his mouth as he looked at the rather feisty raven haired girl. "Are you all like, some sort of athletes or something?" The blonde guy asked curiously while smiling temptingly at Mei and Keira.

Feeling rather exposed while having a few pair of eyes glancing over her half naked body, Nobara shifted a bit before crossing her arms. It would only be a matter of time before she would snap, and God help those men then. Out from the corner of her eye, she saw something shine a bit in the sun. Oh .. there's the knife. It had gotten caught in her towel when she had taken it from the basket. She reached her foot to the side, tapping quickly on the blade of the knife in a seemingly light way.. which of course was not the case. The knife spun upwards, and got caught in her right hand, as she held it casually against her side while glancing from one male to the other. Surely, the other girls might have thought she intended to open the humans up just as easily as the melon they had. And to be honest, that thought wasn't really that far away from her mind. "Are you single, honey?" Either that man was stupid, brave.. or just really horny to be completely ignoring the warning glare of her eyes.

((OOC: Feel free to post as any of these guys, girls ~ ))
_________________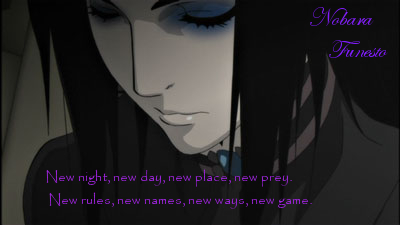 Demons sidle up sweetly
Laughing in the hole in my heart
Epic moment for me - - >

Nobara Funesto

Admin





Posts

: 72


Join date

: 2010-11-26


Age

: 32


Location

: Your closet, watching yaoi with sis.



Keira was feeling slightly awkward at the moment. It seemed both Mei and Nobara were in thought. The whole situation was awkward yes. But she would have to do something soon. Perhaps a friendly conversation with Nobara would work?

Perhaps she didn't need to start up conversation. Nobara was complimenting both her and Mei. Now was her chance. "Oh, the two of you really don't need to be so formal. Keira is just fine. Nothing matters at the moment besides two sisters and a friend, half-naked, and at the beach. No formalities here," Keira said waving her hand in a friendly and devil may care manner.

Keira watched as Nobara spread out the blanket. She held in a chuckle as the girl bent over. She noticed a guy a few feet away from them with his girlfriend eyeing Nobara's backside with his mouth open in an "O". It was rather amusing. Keira winked at him while his girlfriend angrily waved her hand in front of his face.

A moment later Keira heard the ruckus. She turned and watched as a volleyball came hurtling towards them. Her eyebrow raised as she was about to just sidestep out of the way when Nobara did an amazing backflip and kicked the ball back, knocking one of the players out cold. Keira began clapping. "I give you a ten for style, comedy, and still looking powerful," Keira told her.

Keira's raised eyebrow went even higher as the volleyball guys began hitting on them. She glanced at both Mei and Nobara. Both girls didn't seem to want to flirt at the moment. Keira inwardly sighed. Being hundreds of years did have disadvantages. You grew up too much.

Nobara didn't seem amused in the least. These guys really seemed to irk her. She even had a knife in her hands now. Not good. Not good at all. Keira would have admired the guy if he hadn't been thinking with his penis. Keira would have rolled her eyes at the whole situation but she had to diffuse it somehow.

A slight smirk was brought to her pink lip gloss covered lips as she stepped closer to Nobara. Working up her courage Keira lightly touched Nobara's arm in a friendly gesture. It lasted less than a second for Keira wasn't sure how the Espada would react. Most likely Keira could be killed by such a gesture.

"Nobara, let's enjoy this and have some fun. We could turn it into a game," Keira said suggestively. "If the game is too boring then we can find something else to do and it can just be you, Mei, and me again. I tend to find a bigger crowd more fun at times."

Keira then turned to the beach boys and eyed them. Her blue eyes looked them up and down. "We just work out quite often, cutie," Keira answered the blond guy flirtatiously. "Yeah, we're all single. Though that information may not help you." Keira smiled with her eyes closed. It gave her an almost creepy look as she smiled so wide. The smile was gone in a moment.

The brown haired guy seemed more quiet and perhaps slightly shy. Keira found it adorable. Not to mention she found the rugged look quite sexy. Though the blond guy was pretty good looking as well. She also liked the flirtatious types. Though the guy with dreads was a bit too forward for Keira's tastes.

The guy with silver eyes was quite a sight. Though he seemed to be eyeing Mei. Keira grinned lightly. "I have an idea. Why don't we all play a game? I was thinking us three girls against you four guys in a volleyball match. It sounds pretty fun if you ask me." Keira glanced at Nobara and Mei. She wasn't sure if they wanted to play or not. Though this would be a nice way to pass the time and have fun showing off to those beach guys.

"I like the sound of that," the blond stated. "Though shouldn't we split the teams up differently? Three girls against four guys doesn't seem fair."

"I beg to differ," Keira began. "We aren't like any girls you have ever met before." With that said Keira winked and flashed a knowing smile. "I may as well introduce myself since it's slightly rude and well, I'd rather have hotties like you call me by my name. I'm Keira and these are my senpai, Mei and Nobara." Keira then gestured with her thumb to each girl in turn.

"Nobara huh?" Dread lock guy asked pulling his sunglasses down slightly so he could eye Nobara's body better. "Unique name for a very unique girl," he said in a seductive yet almost scratchy voice. Like he was doing his best to use that voice and not make a mistake. Keira had to admit that he was more muscly than the other guys.

Keira noticed that the guy with brown hair was poking the KO'd guy that was laying face down in the sand. He was poking the back of his head almost comedically. Keira giggled at the sight. Yeah, that guy was really cute.

Keira ran her right hand through her blond locks. The sun glinted lightly off. Keira had earlier thought that she didn't want to take anyone home. Though she did want to flirt with the brown haired guy. She shrugged her olive shoulders lightly. She didn't really need to think about these things anyway. She just needed to have fun, make sure Mei and Nobara didn't murder any humans, and see if she could loosen both girls up a little bit.

She also wanted both girls to get some sisterly time. So perhaps later she and that cute brown haired guy could wander off. Perhaps disappear for about twenty minutes? Yeah, that seemed right. The shinigami wouldn't know that Keira hadn't watched Mei for that duration of time, Keira would get some nice lip-locking action, and Nobara would get quality time with her sister that she hadn't seen in over twenty years.

Everything would work out. At least Keira hoped so. Keira vaguely wondered what Nobara wanted anyway. What had happened to that girl? She had turned hollow yes. But why did she want to kill the shinigami? Was it JUST the hollow in her that wanted to eradicate the shinigami race? Or was it something more?

Did Nobara have enough humanity left to perhaps one day going back the way she was? Even if she was still an arrancar? Or would Mei want to join the Espada? What if the two couldn't handle being enemies? What if they sacrificed everything to be with each other. Keira could understand it. She didn't damn either one if they honestly did feel that way.

Though in all honestly Keira wished that there was another way. Could Nobara be changed back to a shinigami somehow? Keira honestly doubted it. In a perfect world that revolved around goodness things could be that way. But this was the real world. There was no fairy tale ending for Nobara and Mei. She was sure one would have to destroy the other.

Keira shook those thoughts off and turned to smile at Nobara and Mei. Again, living in the present was always easier than the past or future. They needed to enjoy fun in the sun. Not brood about upcoming events.

squirrel101




Posts

: 81


Join date

: 2010-12-30


Age

: 27


Location

: Heheh, wouldn't you like to know? (winks)




---
Permissions in this forum:
You
cannot
reply to topics in this forum